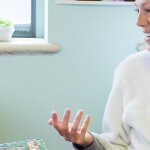 Volunteer in Platt Park, CO
Thank you for your interest in 'Serving Opportunities' at Platt Park Church!  We consider serving to be one of our core practices, and value putting the needs of others ahead of our own. Through our time, gifts and resources we can grow in Christ as we join in God's mission of loving our neighbor and doing Kingdom work. Below you will find a list of volunteer opportunities in our church, neighborhood, city and world.  Take a look and consider what areas may be of interest to you!
I am happy to answer any questions you may have regarding serving opportunities and connect you with the appropriate contact person if you would like to jump in!  If you are unsure about where to start, I would be more than happy to meet with you personally and help you to discern what opportunities might be a good fit for you. We are thankful for your willingness to serve and your desire to connect with our faith community!
Susan Stein
Pastor of Community Integration & Soul Care
Platt Park Church
susan@plattparkchurch.org