Worship with us! Sundays at 9AM & 10:30AM.
Children's Ministry (ages birth – 5th grade) at both services
Youth Group (grades 6th – 12th) meets at 10:30AM
(Livestream available)
Worship Service Livestream
Advent Events & Information
Join us this Advent season!
December 11, 9AM & 10:30AM — Children's Pageant during the worship service.
December 11, 5-7PM. Soup & Sing — 

Bring soup to share and join in a fun, old-fashioned, family sing-along. All are welcome!

December 13, 6:30PM. Advent Vespers & Apps at Jack's — 

A time of peace, contemplation, and worship amidst the busy holiday season. Head over

to

Jack's

afterward for some apps and fellowship. Childcare provided during Vespers.

December 21, 6PM. The Longest Night Service — Death, divorce, unemployment, a diagnosis, pain, aging, a pandemic, the loss of a home, job, parent, dream, season, friend, church, and hope. These are the things we carry inside at Christmas. Not everyone is happy during the holidays. The Longest Night service is a service for those who grieve.

December 24, 2PM, 3:30PM, & 5PM. Christmas Eve Candlelight Services — You are invited to candlelight Christmas Eve services at Platt Park Church. Childcare is available at all three services (birth – age 5). Visit our petting zoo for a holiday photo. Livestream available.
December 25, 9AM. LIVESTREAM ONLY Worship Service. Merry Christmas!
January 1, 10:30AM. One Worship Service & Community Brunch. Ring in 2023 with worship at 10:30AM followed by a potluck brunch in the Social Hall. Bring something to share and the church will provide coffee & donuts. We will only have one worship service this Sunday.
Service Times:
9AM & 10:30AM
Are you new to the community? We would love to meet you and introduce ourselves. 

Email Holly

for more information about the Platt Park community. We are excited to get to know you!
Preschool Ministry (age birth – 5 years old) at both services
Kids Club (grades 1st – 5th) at both services
Youth Group (grades 6th – 12th) meets at 10:30AM
(Livestream available at 9AM)
Sunday Morning Parking
Platt Park Church has a year-round dedicated parking lot at Grant Beacon Middle School on Sunday mornings. Grant is located one block south and one block west of the church at the corner of Pearl Street and Mexico.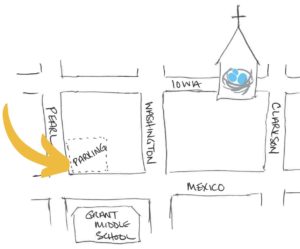 Looking for a place to worship in Denver? Each Sunday, we gather together in a time of community worship. During this time we seek to worship our creative, loving God and change our focus from all that is wrong with our lives, to all that is right with God and his kingdom. In order to do this, we follow a four-fold rhythm each week. Through song, prayer, poetry, readings and meditations we are inspired, challenged and transformed into more of who God designed us to be. Come and join us and re-imagine your life with God.
1. Gathering
The first part of our time in community worship is the "Gathering." During this time, we turn our attention to God who is always present with us, and invite the Holy Spirit to inhabit the praises of the people gathered. We reorient our hearts and minds toward God in preparation for hearing the teaching from the Holy scriptures.
2. The Word
Next we move into a time of teaching from God's holy word. During this time, we open the ancient scriptures of our faith, and listen to a message given by one of our pastors. We reflect on that message and what God may be revealing to us personally and as a community. We consider in that space, what our response might be.
3. The Table
Third, we move into "The Table," or communion. This is a time where we remember Christ's life, which he willingly laid down for us. The communion table is open to all and we invite those who are friends of God to come and share a meal with him in Holy Communion. People are invited to come forward to the communion table, break off a piece of bread, dip it into the juice or wine, and consume it in their own time. Also during this time, those who find it meaningful may light a candle or write a prayer in one of our community journals.
4. Benediction
Lastly, we share in the reciting of a "Benediction" or blessing over our community. It is a reminder for us that we do not just gather for our own enjoyment. We come together to worship and enjoy God, and in this process, we receive restoration of our souls. God restores us so that we may work for restoration in the world. The benediction reminds us that we are being sent out to bring blessing, restoration and redemption to a broken and hurting world.
"It is in the process of being worshipped that God communicates His presence to people." – C.S. Lewis