Platt Park Church will be livestream only for the month of January. Please join us online at 9AM on Sundays.
Worship Service Livestream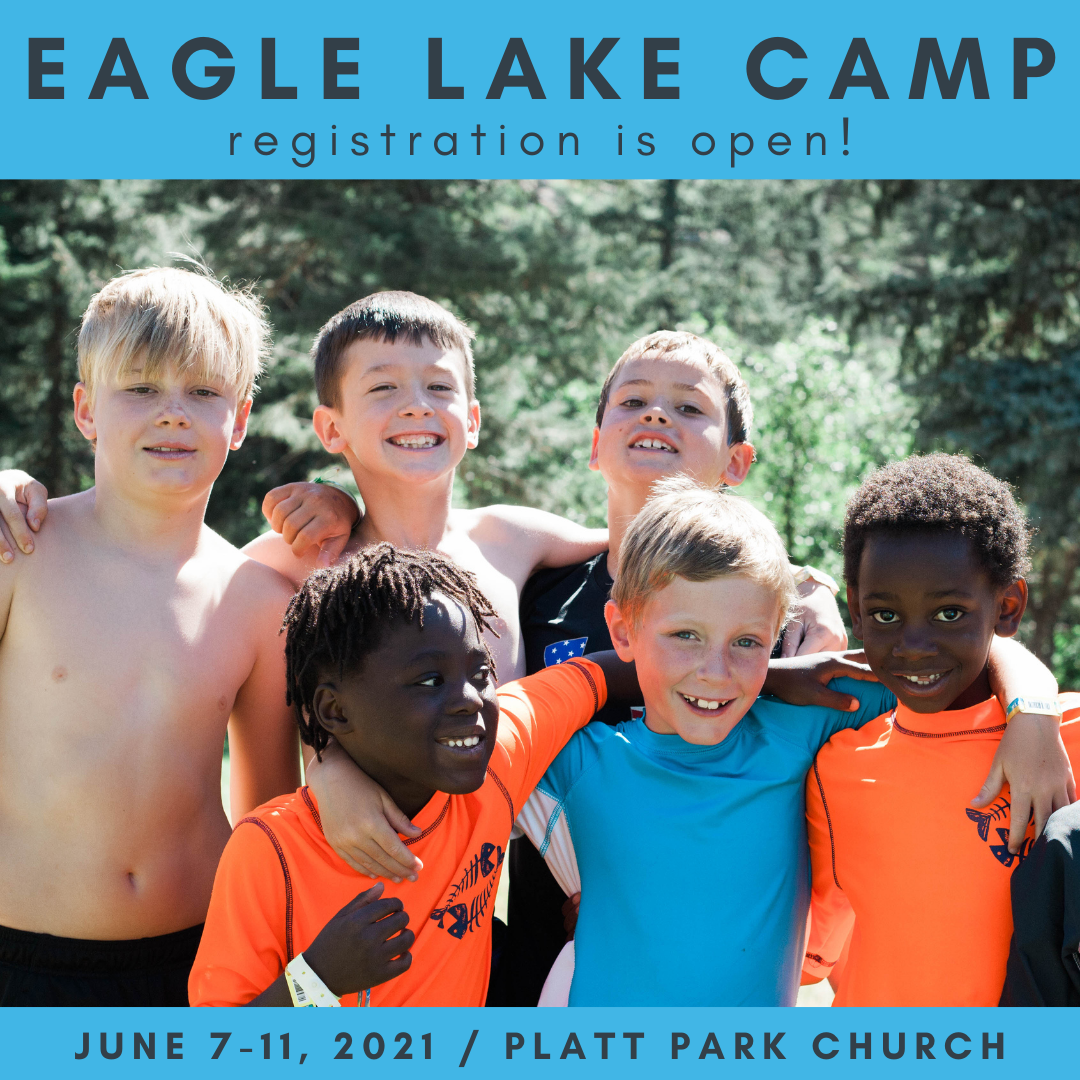 Registration is open! (discount until January 31)
Eagle Lake Day Camp at Platt Park Church
June 7-11, 2021 (ages 7-12)
Eagle Lake Day Camp at Platt Park Church is OPEN FOR REGISTRATION! Camp will include protections for COVID-19 (small cohorts of kids, masks and social distancing). Last summer, Eagle Lake on-location camps had zero cases of COVID-19. Eagle Lake was able to successfully implement safety protocols so that kids could have a fun camp experience and remain safe at the same time.
Through scholarships from our team of partner churches and Eagle Lake, camp costs $95 for the whole week of full-day camp if you register by January 31st. Click the button to register or for more information.
Crew Registration (ages 13-17)
Crew is an opportunity for late middle school and high school students to not just take part in a week of camp, but learn to lead alongside the counselors. There are only 15 spots available at a cost of $20 for the week. This $20 payment also acts as your cancellation fee and cannot be refunded. Click here for more information, or register online today!

Camper Drop Off
If your last name begins with A-M, please drop off your camper(s) between 8:30- 9:00 am.  If your last name begins with N-Z, please drop off your camper(s) between 8:45-9:15 am. On Monday morning, anticipate spending an extra 5-10 minutes checking in.
Camper Pick Up
If your last name begins with A-M, please pick up your camper(s) between 4:00 – 4:15 pm.    If your last name begins with N-Z, please pick up your camper(s) between 4:15-4:30 pm.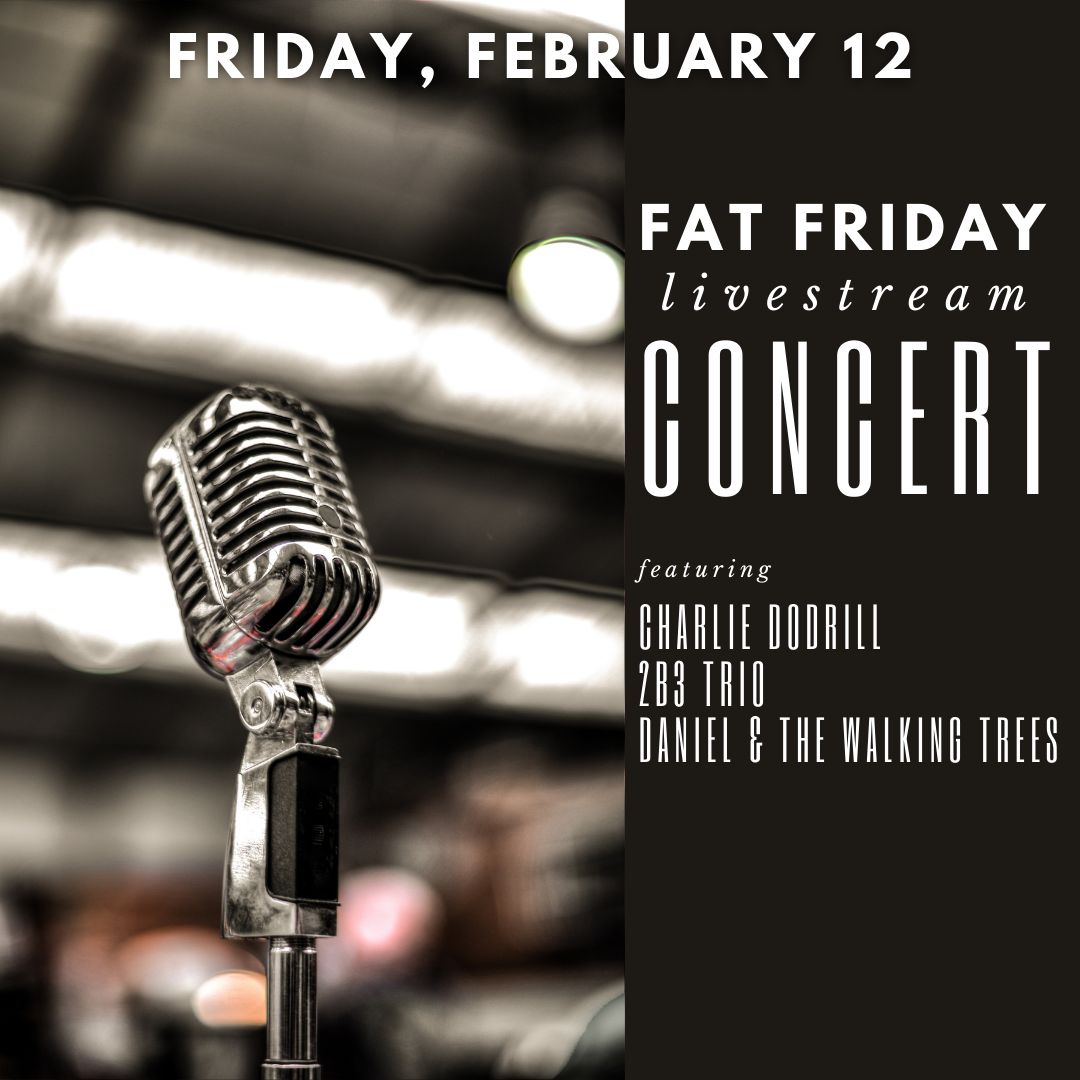 Fat Friday Livestream Concert
Friday, February 11, 5PM, livestream
Fat Tuesday is celebrated the day before Lent begins. At Platt Park Church we are kicking off the start to Lent with a Fat Friday Concert featuring a few of the amazing musicians in our church community. Join us online for this fabulous concert!
Featuring:
Charlie Dodrill
2B3 Trio (Mike Abbott/guitar, Jeff Jenkins/B3 organ, Mike Marlier/drums)
     (@2B3Trio, 2B3 Trio YouTube)
Asylum Network / Casa de Paz
All donations will be matched by Platt Park Church
Some members of Platt Park Church are part of a volunteer group of 12 that is supporting a 19-year-old young man as he transitions out of a social services program into a new life here in the US (Cherith & Rich Flowerday, Jon & Susan Hokama, Anne Coughlin, Jalyn Ingalls and Alex Hoffman). He has legal status that is pending, but he has no family or friends in the US, doesn't yet speak the language and isn't yet able to work. He also needs to finish high school and says he is hoping for a "normal life" after several years f trauma. The team members each have a different role in support for him. He is living with Rich and Cherith as of August 25th, getting English lessons from Susan 2-3 times per week, Alex is doing accounting, Anne did background checks on our team of volunteers, and others are doing coordinating, fundraising, trips to doctors, teaching him to ride the bus & light rail, and much more.
We've been advised to raise about $5,000 for a year of expenses for him. At this point expenses are food and clothing, and we're foreseeing things such as items for school, possibly some counseling expenses, and other unknowns. If you are interested in helping we welcome your donations (select "Asylum Network Support Team" from the dropdown list), which Platt Park Church said they would match! We'd love you to join us in supporting a sweet, young man to our country with the love of Christ. Thank you!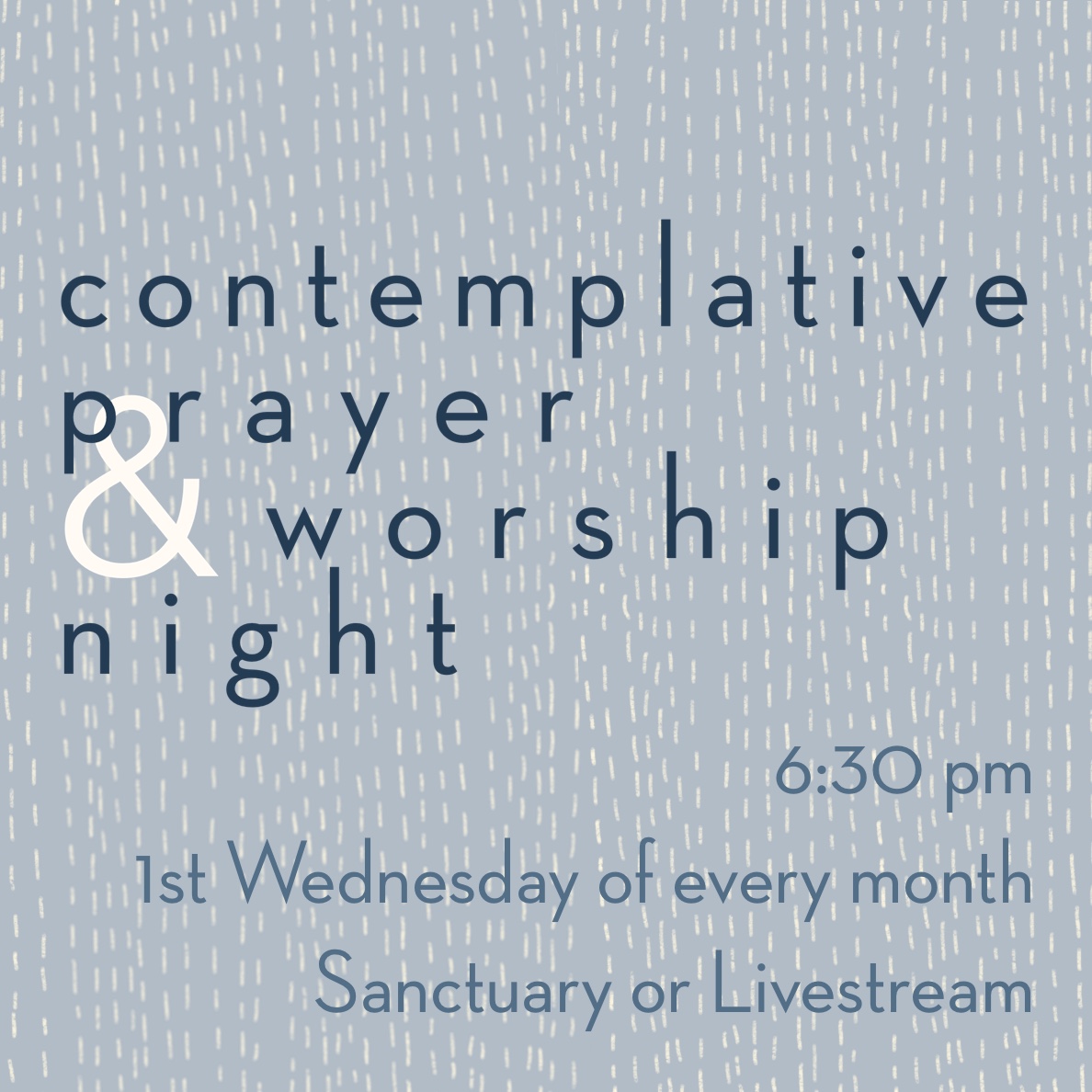 Contemplative Prayer & Worship Night
1st Wednesday of the month, 6:30-7:30PM
Sanctuary or via Livestream
We want to offer a quiet space for you to engage with the Lord during this season… no sermon, speaking, or other programming. As you come in, there will be a table with information about a specific prayer practice that you are welcome to engage with, and Charlie will lead us in an hour of worship music. Come as you are, find a comfortable spot in the sanctuary or in your own home, and just breathe.
Youth Group is Meeting via Zoom for the month of January
Sundays, 10:30 – 11:30AM
Zoom (email Allison to be added to the Zoom list)
The Youth Group meets via Zoom each Sunday from 10:30 – 11:30AM.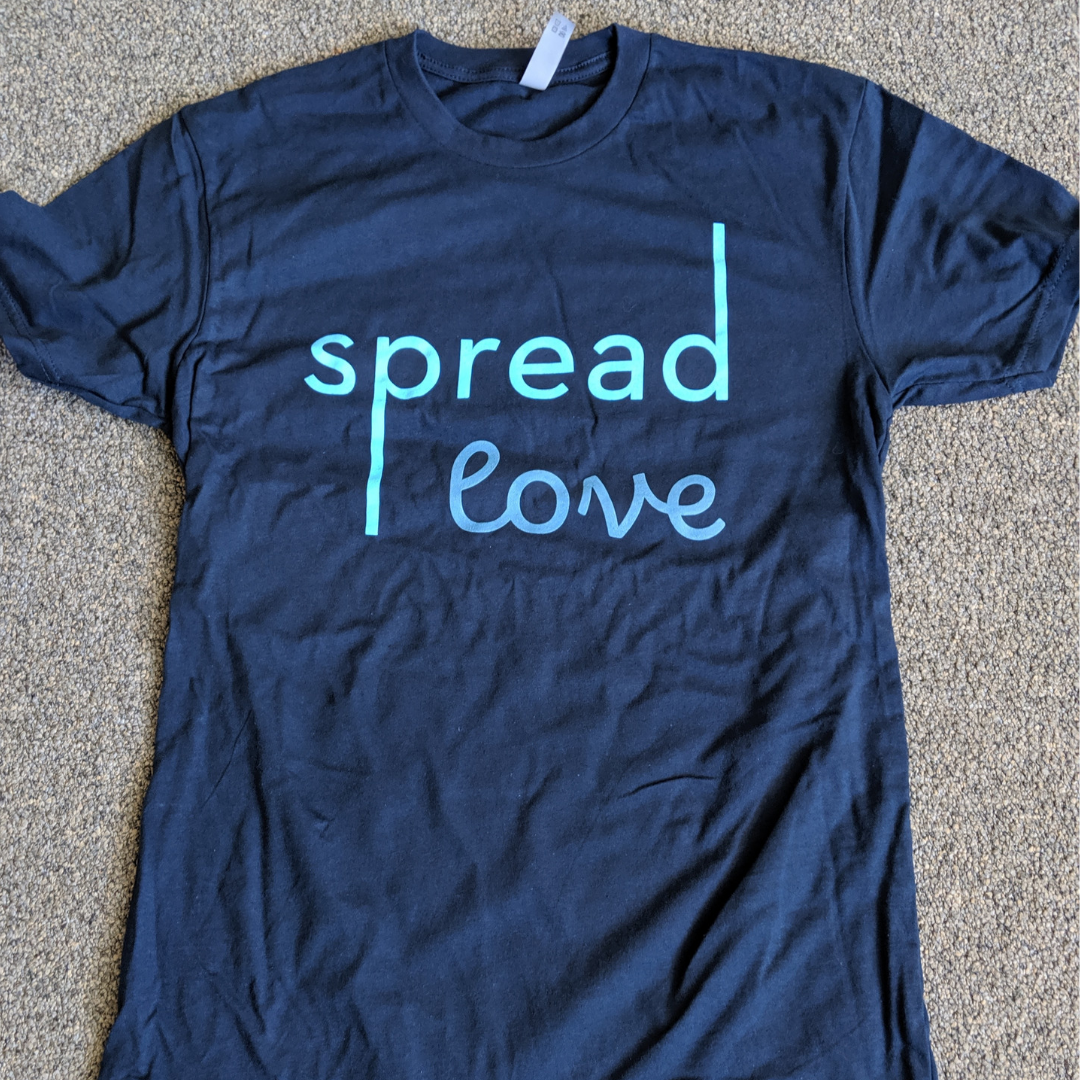 Spread Love T-Shirts
WE NOW HAVE KIDS' SIZES!!
Platt Park Spread Love t-shirts and baseball t's are back!
Purchase yours and officially spread your Platt Park love.
Adult T-shirts $15
Baseball T's $20
Kids' t-shirts $10
Cash, check and venmo (@plattparkchurch) accepted.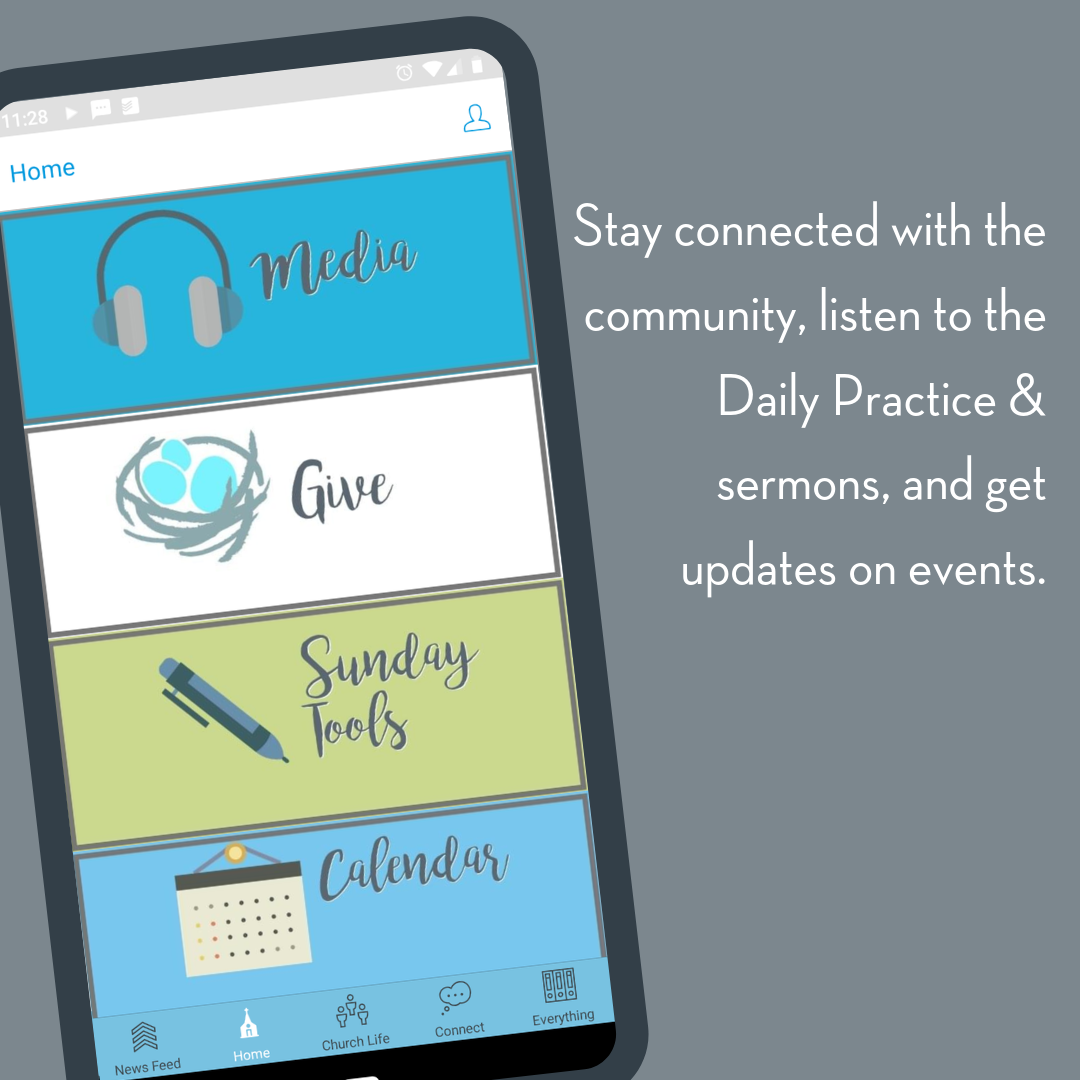 Platt Park Church App
We have a customized app so you can stay connected with everything here at Platt Park Church! You can access sermons, watch the live video stream, register for events, and give — right through our church's app.
One of the great tools on the app is the "Daily Practice" podcast. The Daily Practice is a devotional tool from Platt Park Church for developing the habit of daily time with God.
Download the app today! Text "PLATT APP" to 77977 and download or use the download button.
Connect, Grow, Join a Group, Flourish
Looking for ways to connect in our faith community? Want to join a group or find a place to serve in our church, in Denver, or even globally?
Stop by the 'Connection Table' at the back of the sanctuary after service and learn more about the good things that are happening in our faith community! Susan Stein (Pastor of Community Integration & Soul Care) would love to chat with you and share opportunities to connect, grow and flourish at Platt Park Church!
The Daily Practice
The Daily Practice is a devotional tool from Platt Park Church for developing the habit of daily time with God.
Learning to love God takes practice. Just like exercising a muscle, our hearts are trained to love from the bottom up, through the formation of our habits and practices. Discipleship is about curating our hearts to love God and the things that God loves. Forces of our culture train us to love things other than God all the time, but spiritual practices help us to be attentive and intentional about what my heart really loves and desires. Following Jesus is more a matter of hungering and thirsting than of knowing and believing and it is our habit forming practices that form our desires over time. May this daily practice tune your heart to sing His praise.
Click HERE to listen on the web, or find us wherever podcasts are available by searching for "Platt Park Church" or "Daily Practice: Time with God".
Casserole Care Volunteers
We're thrilled to offer #CasseroleCare to our new moms, families undergoing a severe illness, and others in need!
It's a good-old fashioned meal train, where we deliver home-cooked or freshly prepared restaurant dinners. Service opportunities include meal preparation, delivery, or simply donating a gift card from your favorite fast casual restaurant!
Please indicate #CasseroleCare on your comment card, or contact Marcie Everett for additional details.
Apple Tree Clothes Closet
The APPLE TREE CLOSET is open for shopping! Beautiful, upscale women's clothing, shoes, and accessories are regularly donated to us by Common Threads on South Pearl and you can purchase them for a fraction of their original price.
Students and those with low income can even shop for free! The proceeds from this ministry benefit our Benevolence/Blessing Fund. Come check it out on the lower level!
(Due to space limitations we are no longer accepting donated items from the congregation).
Blessing Team
Did you know that our church has a "Blessing Team?'" This is a group of dedicated individuals who are available to help meet the needs of people in our faith community. Our role is to support and encourage through a variety of means such as providing meals, financial assistance, visitation, and prayer.
Do you know of someone in need? Please let us know.
"It is in the process of being worshipped that God communicates His presence to people." – C.S. Lewis