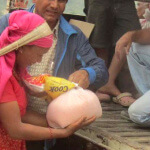 Global
God is moving all around the world and we can be a part of God's mission through international serving opportunities. Our church provides mission trips to work alongside our ministry partners in Guatemala and Nepal. We also use our financial resources to provide important needs around the world. God calls us to love those who are vulnerable because of war, poverty, and other crises.
Currently we are also working with a local church in northern Iraq to help Syrian refugees.
Through our time, gifts and resources we can grow in Christ as we join in God's important mission of loving our neighbor and expanding his kingdom.